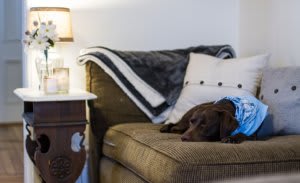 Photo By: Pixabay
Whether you are in the midst of searching for a new home or simply thinking about purchasing a home in the near future, there are a lot of factors you must consider such as the number of stories, layout, and amenities such as an unfinished basement, porch, or a pool. There is some room for compromising, but when it comes to the health and well-being of your four-legged family member, compromising isn't an option. Your home is their home too, so don't forget to keep their needs in mind as you browse.
Use the Right Realtor
A realtor's job is to meet the needs of his or her client, and you and your pooch are a package deal. It's important that you find a real estate agent who is pet-friendly, as well as knowledgeable of town/city pet ordinances, what (if any) rules and regulations are in place in certain areas, as well as local pet amenities. Keep in mind that just because a home has never seen a paw, doesn't mean it can't be dog-friendly. A real estate agent will be able to help you see the potential in a home, especially if it checks almost all of your required boxes. For example, a fence can be installed in the backyard or carpet replaced with hardwood.
Consider Everything
Before you pull the trigger and make the purchase, it is important that you consider just how dog-friendly the potential home really is. Like you, your dog likes to have space to stretch and run around, so take a look at the layout. If there isn't much room for indoor romping, is there a yard or nearby dog park? Your dog's age should play a big part too, as stairs might be hard on an elderly dog, making a one-story home the best option. Pay attention to the outside of the home as well; more specifically, the street traffic. Even if it hasn't happened yet, dogs have an inner escape artist, and sometimes even the most well-mannered dogs can't resist an open door. To prevent tragedy, your home should be located in an area away from heavy traffic.
Look for Damage
If the previous owner was also a pet owner, it's a good idea to thoroughly inspect the home for damage such as stains, scratches, odors, and even fleas. Should you decide to purchase the home, your realtor can help you make home repair requests such as painting damaged areas or replacing the carpet. In addition, by pointing out the damage, you may also be able to negotiate for a lower price, especially if you will be footing the bill to make the necessary repairs. Don't forget to check out the odor too. As a dog owner, you might not notice it, so bring a friend along to be your official sniffer. When you have a dog, odor comes with the territory, but the seller should clean up after their pooch out of respect. Furthermore, odor could be a sign of damage too, such as an accident that wasn't cleaned up properly and was left to soak him.
Help with the Adjustment
A new home comes with new smells, a new environment, and brand new places to explore, but it is all still a big change, especially for a dog who has no clue what is going on. To help with the adjustment, start by prepping for potential anxiety by updating collar tags before you move in case your pooch manages to bolt during all the excitement. Your dog may already be a little on edge, so before he enters the home, check the home for potential hazards that could put a damper on this exciting change. Look for possible toxic items within reach of curious noses such as cleaners, medications, and house plants. Check for possible escape routes, including in the yard. Ultimately, to ensure the best possible adjustment, give your dog lots of love and attention. A treat or two certainly wouldn't hurt either.
Purchasing a new home is an exciting experience, and although your dog might not realize it now, it's an exciting time for him too. As you browse, make sure your house must-haves include Fido so that everyone will be happy with the new humble abode.
This blog post is a guest post by:
Cindy Aldridge